This article, Sigrid Odinsdottir (OUATIA), is property of Spence222.
Sigrid Odinsdottir

Asgard Character
Biographical Information
Counterpart:
Sigrid Olson
Cursed Counterpart:
Jenna
Gender:
Female
Status:
Alive
Home:
Storybrooke
Asgard (formerly)
Occupation:
Princess (formerly)
Relatives:
Physical Description
Species:
Asgard
Hair color:
Black
Eye color:
Brown
Show Information
Portrayed by:
Lily Collins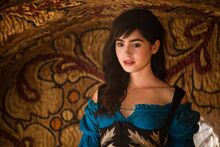 Sigrid Odinsdottir is a character in the fanfiction, Once Upon a Time in Asgard by Spence222. She is portrayed by Lily Collins and is the Storybrooke counterpart of Sigrid Olsen.
Sigrid is based on Bor from Norse Mythology and on Angela and Laussa Odinsdottir from Thor.
Family
Bestla
Bor
Frigga
Odin
Hela
ThorDr Donald Blake
Jane Foster
Loki
Sigrid Odinsdottir